Dental Corner's in-house dental lab allows us to create your dentures in just 24 hours, which in turn helps you to regain your healthy smile more quickly. Our dental lab also allows us to provide you with same-day denture repair in Wichita, Kansas, so that you never have to go without teeth for any length of time. In fact, our lab can repair your broken dentures in just one hour!
Drs. Jay Hildreth, and Tommy Rose have remarkable experience with dentures. Dentures restore your ability to speak and eat, support your facial volume to give you a healthier overall appearance, and give you back a confident, beautiful smile. We may recommend dentures when you need to replace many or all of the teeth in a full arch, and will work with you to determine which type of dentures will best meet your needs. We invite you to contact our office at 316-681-2425 to learn more about our denture services and schedule your appointment with our skilled dentists.
There are several types of dentures available, including complete, partial, and immediate dentures.
Complete dentures are used to replace an entire arch of teeth. They may be removable or fixed (permanently anchored in your mouth using dental implants).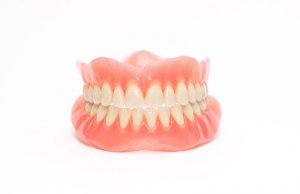 Partial dentures are recommended when you still have healthy teeth remaining in your mouth. Partial dentures are used to close the gaps in your smile and restore your bite. There are two types of partial dentures – partials with a metal framework, and Valplast® plastic partials.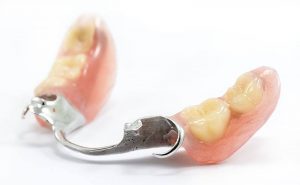 Immediate dentures are complete dentures that are placed immediately following the extraction of your teeth, rather than waiting for the gums to heal before being fitted and placed.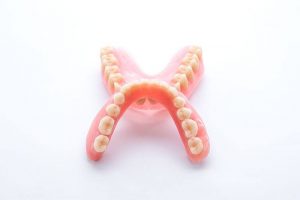 Some of the repairs we can complete at our dental lab include:
Reline – a resurfacing of the side of your denture that touches the soft tissues of your mouth to help your appliance fit more securely. We recommend that you have your dentures professionally relined every 1-2 years so that your appliance will remain secure in your mouth and continue to function properly.
Rebase – a repair used to completely remake and replace the pink acrylic of your appliance (the part that holds your teeth in place). We often recommend this type of repair if your dentures are weakened or damaged.
Adjustment – minor repairs and changes to relieve discomfort caused by your denture rubbing up against your gums or other soft tissues, and to improve the fit of your appliance.
We welcome you to contact us today for more information about dentures and same-day denture repairs in Wichita, Kansas, and to schedule your appointment with our caring dentists.